Show on map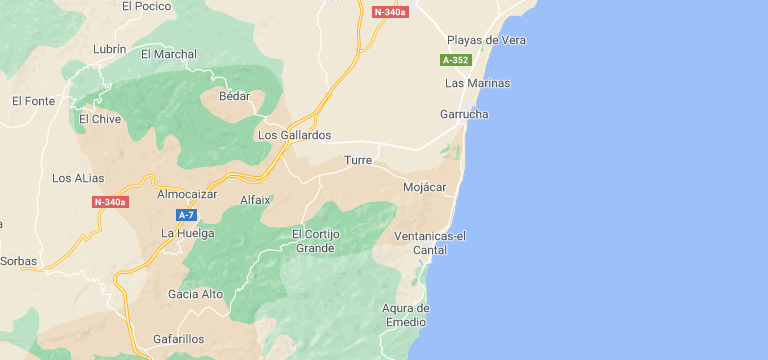 Cuevas del Almanzora
Cuevas del Almanzora is a small town at the base of the Almanzora valley, just off junction 537 of the E15 motorway.
Cuevas del Almanzora offers visitors a rich variety of things to do, including an excursion to the cave houses of Calguerín. Among over 200 excavated caves in the rocky cliff face, some have been set up as rural lodgings providing accommodation, and one as a museum.
Cuevas del Almanzora was also the host for the canoeing and rowing at the XV Mediterranean Games held in Almeria, Spain from 24 June to 3 July 2005 under the name of Almería 2005.
The privileged location and the proximity to the coast which the town enjoys have converted it throughout history into a local economic and trade centre. Add to this the times of splendour during the silver mining of the Sierra Almagrera in the 19th Century means that Cuevas del Almanzora is a town with a great deal of history in its streets and houses, as seen in the castle, the Town Hall or the house of the poet Sotomayor. The town is named after this silver rush when many of the miners carved out artificial caves to live in whilst mining for the precious metal.
The town is also home to the World famous Desert Springs Resort golf course.